Following a series of neighborhood meetings over the last six months, Cleveland City Councilmen Joe Cimperman and Brian Cummins led a presentation to the City Planning Commission on the Dream Neighborhood initiative. The Councilmen were joined by Samantha Peddicord, Executive Assistant for Ward 3 and Tony Bango, Housing Development Coordinator, Stockyard, Clark Fulton & Brooklyn Centre Community Development Office who have both been instrumental in developing the project.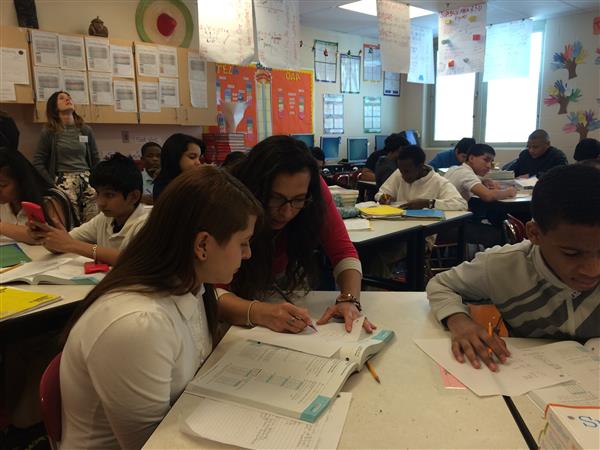 Classroom. Teacher and Students at Thomas Jefferson International
Newcomers Academy, CMSD News Bureau, 3/10/2015.
The Dream Neighborhood project seeks to build off of existing community assets and strengthen a portion of the Stockyard neighborhood with a general boundary area of Fulton Road to the east, W. 58th Street to the west, I-90 to the north and Storer Avenue to the south. The neighborhood area is centered around T
homas Jefferson International Newcomers Academy
(TJ).
Target area for the Dream Neighborhood, centered around Thomas Jefferson
International Newcomers Academy located at 3145 West 46th Street
The main neighborhood assets the project draws from are:
Thomas Jefferson International Newcomers Academy & Students (over 500 plus), along with their families. TJ is a unique Pre-K to 12th-Grade Cleveland municipal school that serves as an English Immersion program for Limited English Proficiency Students.
Refugee and Immigrant families already located in the area - 33 refugees settled in this area in 2014.
Affordable housing and commercial space opportunities
Clark Recreation Center and The Salvation Army
The presence of 850 manufacturing jobs
A presence of community organizations and history of neighborhood involvement from residents.
Exciting new projects in adjacent areas - La Villa, Hildebrandt Building and Gypsy Brewery
Public Services - Second District police and good Public Transportation
Social Services and Community Inclusion
Refugee Related Organizations
Medical Organization
Social Services
Residents

Housing
Create housing opportunities for refugees
Reduce vacancy of existing housing stock
Economic Development
Low interest loans for new small businesses
Directly addressing vacant commercial space
(See presentation document below for more details)
The initiative represents an unprecedented collaboration between government, non-profit, for-profit and faith-based organizations that include:
Asian Services In Action (ASIA)
Building Hope in the City
Cleveland Catholic Charities Migration and Refugee Services
Cleveland Heights-University Heights School District
Cleveland Metropolitan School District
Cuyahoga County Job and Family Services
El Barrio (The Centers for Families and Children)
Global Cleveland
International Services Center
Lakewood City Schools
Neighborhood Family Practice
Ohio Department of Job and Family Service Refugee Services
The Refugee Response
US Together, Inc.

Cleveland City Council - Joe Cimperman (Ward 3), Brian Cummins (Ward 14) and Matt Zone (Ward 15).
Local housing investors and contractors
Local block clubs, Social Service and Faith based Organizations, i.e., International Village Block Club, West 58th Street Church of God, St. Rocco Church, POPCE, St. Bonafice Church.
Health care service providers - MetroHealth and Neighborhood Family Practice and the BUILD Health Challenge Project.
A visit to the International Newcomers Academy. By Lynn Ischay, The Plain Dealer, 12/9/2010.
Housed in Thomas Jefferson School on West 46th Street, the International Newcomers Academy is one of Cleveland's newest schools, and perhaps its most unusual. Its 200 students are all new to this country, and come from countries across the globe. From pre-K through 12th grade, they learn English through total immersion. The goal is to acclimate the students as quickly as possible, then transfer them to a mainstream school.


The following is the presentation provided today at he Cleveland Planning Commission. The presentation was an advisory and informative presentation that did not seek an official approval or endorsement of the plan, Community meetings and project partnership meetings will continue and progress will reported on as the initiative develops.
Related articles and information:
Housing Stabilization by the numbers - foreclosed, rehab and demolition in the Stockyard, Clark Fulton and Brooklyn Centre Neighborhoods. By Brian Cummins, 7/17/2015
Dream Neighborhood aims to weave refugee housing into West Side neighborhoodsBy Michelle Jarboe McFee, The Plain Dealer (Cleveland), 7/16/2015
Immigrants: The Vacant Property SolutionBy Steve Tobocman, Welcoming Economies (WE) Global Network, 5/24/2015
Immigrants can revitalize Toledo's community, economy, Few other economic strategies can do so much for so little cost. By Steve Tobocman, The Blade (Toldeo), 5/4/2015
Newcomers Academy shows off international flavor (slideshow),
CMSD News Bureau, 3/10/2015
Welcome hubs provide foreign-born with a Cleveland connection
By Douglas J. Guth, Fresh Water, 3/5/2015
Refugees build new lives and businesses in Cleveland
By Karin Connelly, Fresh Water, 4/9/2015
Strengthening Communities By Welcoming All Residents
A Federal Strategic Action Plan on Immigrant & Refugee IntegrationThe White House Task Force on New Americans, April 2015
A Day in the Life of an Immigrant Entrepreneur
By Raluca Besliu, Global Cleveland
Global Detroit - Research: City Revitalization, Workforce, Entrepreneurship, Innovation & Job Creation and more.